The Class of 2020, results

GVGS VCE ATAR Scores 2020
22% in the top 5% of the state (ATAR 95+)
37% in the top 10% of the state (ATAR 90+)
65% in the top 20% of the state (ATAR 80+)
83% in the top 30% of the state (ATAR 70+)
The school community congratulates the Class of 2020 on their commitment to learning and citizenship. Despite the trials and disappointments experienced this year, their focus on learning and community never wavered. As an open entry non-selective school, we particularly acknowledge the effort, persistence and learning growth of students who faced adversity and challenges.
Over the years, and particularly in response to this year's restrictions, the Class of 2020 were courageous, compassionate and collegial. They fully embraced all aspects of the cocurricular programme in diverse areas such as music, sport, community service and leadership.
We also acknowledge the outstanding classroom instruction provided by our teachers and the wonderful support of operational staff and parents.
The legacy of the Class of 2020 epitomizes the school's motto Semper Ulterius – Always Further.
Outstanding Achievements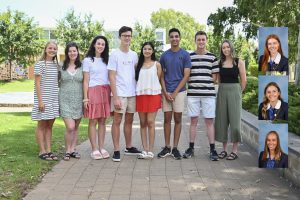 L-R: Meg Eishold (98.9), Charlotte Uniacke (98.7), Elly Miechel (99.05), Frederick Thompson (98.9), Ashima Tyagi (99.6), Ayush Tyagi (99.05), Harry Burgess (98.05), Eloise Schmedje (98.05). INSET: Lucy Bourchier (98.6), Chloe Charnstrom (98.65), Eliza York (98.2).
Study Scores of 50
| | |
| --- | --- |
| Meg Eishold | Health and Human Development |
| Elly Miechel | English |
| Eloise Schmedje | Health and Human Development |
| Ashima Tyagi | English |
More information
| | |
| --- | --- |
| Study Scores over 40 | 22% (State Avg. 7%) |
| Median Study Score | 35 |
| Study scores of 50 | 4 |
| ATAR 98 + | 12% (11 students) |
| ATAR 95 + | 22% (20 students) |
| ATAR 90 + | 37% (34 students) |
| ATAR 85 + | 50% (46 students) |
| ATAR 80 + | 65% (60 students) |
| ATAR 70 + | 83% (76 students) |