Harriet Cassidy, Class of 2022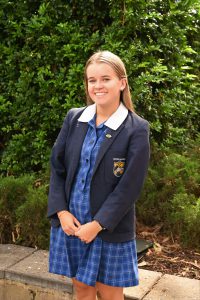 Harriet Cassidy started at GVGS in Year 7 in 2017, following her older siblings Annabelle (Class of 2016), Genevieve (Class of 2018) and Jack (Class of 2020), after finishing primary school in her hometown of Cobram.
"I've really enjoyed my time at school. I made lots of friends and got involved in lots of the sporting activities, like the ICCES competitions and netball. I love playing sport and getting to be with my friends outside the classroom," she says.
"I found all the teachers helpful, friendly and personable, especially since I'm not naturally good at school work, they went above and beyond for me. The teachers really become more like friends when you're in VCE because they're right there with you the whole time, making sure you're doing OK and getting everything done to the best of your ability."
Extracurricular activities were a highlight for Harriet over the years. "Year 9 camp in Melbourne was so much fun and it was everyone's first taste of real independence," she says.
"Valentine's Day, Op Shop Day and events like that helped to break up the year and give us something fun to look forward to."
Harriet's family have a long association with GVGS, her cousin being the first person in her family to attend the School 20 years ago. "All my siblings and extended family have had great experiences at GVGS and I've seen them achieve their goals through the support the School has given them," she says.
"I've always heard really positive things from everyone and what a great time they had at the School, so I'm glad I've been able to have that same opportunity and grow in an environment where I'm supported and can follow my dreams".
In 2023, Harriet is hoping to head to Melbourne and live at The University of Melbourne's St Mary's College, while studying nursing at Australia Catholic University. "I've always been interested in health and the course I'm looking at has a good reputation because you can get exposure to lots of different areas of the hospital with this degree," she says.
"My dad is a chiropractor and my sister is an OT, so there are a few people in my family working in health and I think there are a lot of incentives to being a nurse. I see how much dad and Annie like their jobs so I hope I can have that fulfilment in what I do too."