Sharon Anthony, Class of 2022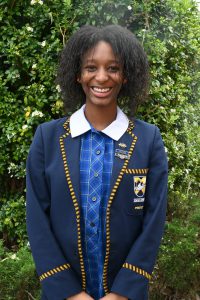 Sharon Anthony started at GVGS in Year 7 in 2017, following her older brothers David (Class of 2016) and Sam (Class of 2018) and shortly her younger brother Josh will also commence at the School.
When she joined GVGS, Sharon says the one thing that excited her was the number of extracurricular activities available, as well as the chance for her to flourish academically. "I tried to get involved in as much as I could – netball, hockey, ICCES competitions, production committees – all of these opportunities have been great and benefited my growth in their own way. I always enjoyed the GVGS environment – it's a very warm and welcoming place where I could be myself. I felt accepted straight away and my ideas were always appreciated," she says.
"Being Music Captain this year has been a fulfilling and enjoyable experience. I really liked organising events and being a mentor to the younger music students, as well as promoting the great music work that the School does. The role is something I've wanted since Year 7, so getting the opportunity was what I've always hoped for and worked towards for a really long time."
In 2023, Sharon plans to study a Bachelor of Science and work towards a Masters Degree in engineering at The University of Melbourne.
"I've always found science interesting and it's something I can see myself doing for the rest of my life. I hope it can lead me to a career where I can make a difference in this world and have a job that I look forward to every day," she says. "I think science and physics are very engaging topics. I love that there's a solution and you can work towards that – it might take a while, but you will get there. It's satisfying learning how the world works and the science behind what happens in our everyday life."
Looking back on her time at GVGS, Sharon has some words of advice for the Class of 2023.
"Make time to do the things you enjoy and try to not let the stress overwhelm you. It's going to be difficult at times, but it will be over so quickly. Embrace every moment and focus on the things that make you happy."