Spirit of Anzac Prize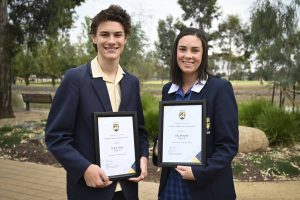 Year 11 students Angus Hatty and Elly Miechel experienced the trip of a lifetime in the term one school holidays. The pair were recipients of the Premier's Spirit of Anzac Prize for 2018, an overseas study tour open to Year 9 and 10 students run by the Victorian Government Department of Premier and Cabinet.
Open to students across the state, entrants were encouraged to use their imagination and creativity to submit a piece of writing of their choice related to war history.
"There were many ways you could enter – some people did videos, some did artwork, fictional stories, essays, poems, songs – there were lots of different entries," Elly said.
Out of nearly 500 entries from around the state, it was the stories of Elly and Angus that caught the attention of the selection panel.
With a strong interest in military history, Angus said he chose his story subject in the hope it would stand out from other entries.
"I wanted to do something that was within my knowledge range but also something that was a little bit obscure – not D-Day, not Gallipoli – I wanted to do something that not everyone knows about," he said.
"So that's why I chose to do a story of an Australian bomber crew in Britain."
While Elly did not have extensive knowledge of war history, she said a personal story influenced her piece.
Growing up her grandmother would speak about the relationship she had with her father who was a veteran from World War 1.
She said he was a changed man after returning from war, developing a strong dependency on alcohol.
"I was always just intrigued by those stories because they felt so real," Elly said.
"So I decided to put that into a story – a fictional story from her prospective – that just explores his downfall and the way that alcohol eventually killed him."
After a selection day in December last year, Elly and Angus were among the 22 students selected as the recipients of the Premier's Spirit of Anzac Prize for 2018.
As part of their prize the pair ventured off to Vietnam and Singapore during the April school holidays where they experienced a 10-day tour of their military history.  
Arriving in Ho Chi Minh City, formally known as Saigon, the pair spent the first couple of days getting familiar with the country and meeting the other recipients on the trip.
While in Ho Chi Minh City they visited the War Remnants Museum which houses more than 20,000 documents, exhibits and films from Vietnam's experience in war.
While the photos were graphic and at times confronting, Elly said the museum gave her a better insight into the true realities of war. 
"It was really eye opening there were all of these photos which aren't published in the media on the walls everywhere, showing the human atrocities committed during the wars which was seriously just terrible," she said.
While in Ho Chi Minh City the tour took them to the Cu Chi Tunnels, the location of several military campaigns during the Vietnam War and the Viet Cong's base of operations. These small tunnels were used by Viet Cong soldiers as hiding spots during combat, as well as community and supply routes.
"It took a lot of mental strength to get through the tunnels … to go in it was one metre tall by one metre wide at some points and complete darkness," Elly said.
"To think they had widened those tunnels for tourism by 50 per cent at some points, they would have been absolutely tiny for the Viet Cong."
One of the final stops in Vietnam was a trip to Nui Dat, a former Australian Task Force base now part of the Ba Ria-Vung Tau province. 
Elly said this stop was an emotional one for their tour guides who were both former veterans, Dr Robert Webster now president of RSL Victoria and Mr Gary Treeve the president of the Murray Border RSL.
"The visit to Nui Dat was really emotional, particularly for the veterans who were travelling with us," she said.
"It was really great having them with us on the trip because they made it so authentic for us and gave us a lot of insight … they were always open to questions which was great."
After leaving Vietnam they ventured to Singapore where Angus said they visited a number of emotional World War 2 history sites.
One place he said he will never forget was the Singapore War Memorial. 
"The only time I really got emotional on the trip was at the Singapore War Cemetery," Angus said.
"There were just rows and rows and rows of gravestones, that was pretty emotional I'm always going to remember that."
Elly and Angus encouraged anyone in Years 9 and 10 to consider applying for the Spirit of Anzac Prize in the future.
They both agreed the trip was a once in a lifetime opportunity from which they took away a wealth of knowledge about the world's war history. 
"Something I would take away from the trip is how lucky we are in Australia, I didn't realise just how much but to see the poverty and how hard working Vietnamese are, it's quite shocking really," Elly said.
"I felt quite proud to be Australian over there … where we went everyone loved us, so that was good I felt really proud representing the country."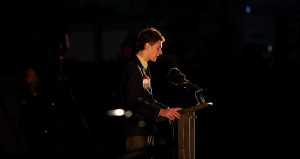 Each year one student from the group of 22 Spirit of ANZAC participants is invited by the Victorian RSL to read at the dawn service at the Shrine in Melbourne on Anzac Day.  This year Angus was selected.  Angus delivered a reading of the poem  "In Flanders Fields" in front of a crowd of 25,000 people.