Focus
At Goulburn Valley Grammar School our focus is on student learning, achievement and wellbeing.
Moral Purpose
We aim to improve the lives of our students through learning
Our motto "Semper Ulterius" (Always further) – challenges us to strive for improvement in all that we do
Beliefs
All students have the capacity to grow in their learning each year with appropriate curriculum and  teaching practices
Our motto sets high expectations for students, staff and the school as a whole
A commitment to continuous improvement is critical to ensuring we continue to achieve our mission
Evidence-Informed Practice
There are over 50 years of international research identifying which curriculum and instructional practices are most likely to have the most impact for most students. We strive to make decisions regarding what and how we teach that are informed by this extensive body of evidence.
Our Commitments
all our efforts should be directed toward student learning
we see learning and wellbeing as being complementary to each other
learning includes content knowledge and skills from the traditional academic disciplines and personal and social capabilities
we strive for students to experience at least one years learning growth for each year of engagement
we set high expectations for each student regardless of their starting point
all students will experience a guaranteed and viable curriculum
we will teach students using evidence-informed instructional practices
we aim to create a school culture and classroom climate where learning and wellbeing are optimised
we will develop powerful learning partnerships between students, teachers and parents
through a commitment to collective efficacy our staff will strive to improve our curriculum and teaching practice
we monitor our impact and use evidence to inform our decisions and actions
Our school culture
The positive school culture is one of the defining qualities of the school. It is a culture where there is a focus on learning and best efforts are valued and fostered. A number of important elements are at the foundation of our school culture.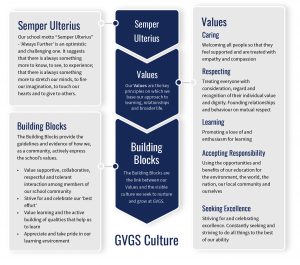 Educational Philosophy
Our educational philosophy is influenced by the independent school tradition and features 3 key domains. The interrelationship and synergy between each of these domains are crucial to a meaningful, positive and life-worthy education.