Our students win gold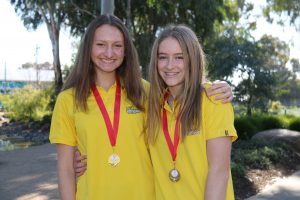 GVGS students win gold and national championship at aerobics comp
Two current students and a former student are among the team that won gold at the National Aerobic Championships in Queensland on Friday, August 16.
Zali Schelling (Year 10) and Alexandra Treacy (Year 8), along with their coach Emma O'Keeffe (Class of 2006), were part of the 15-strong team from Shepparton's Peak Physique Sport Aerobics Club who took out the top accolade in their Aerobics Cheerleading section during the four-day competition in front of hundreds of spectators and teams from all around Australia. 
Club owner Ms O'Keeffe – the World Champion in 2014 and in the running again for 2020 – said, "The team comprised nearly the whole club, with ages ranging from 10 to 31, making the win all the more rewarding for us as a group. This routine began as something the two other coaches and I thought would bring a different element to our training for solos and pairs, which can be pretty intense in terms of fitness and skills. 
"More or less for the enjoyment, we took the routine to the Victorian State competition held in Geelong back in May. We won gold, which was fantastic, and so from then, we've really focused on drilling our skills, certainly, but also our timing, which is a key factor in performing a routine with such a large group and age span.
"I'm so proud of all the kids and our beautiful club. Our goal was to get to Nationals, and everything from there was a bonus – the laughs, stress, fear, excitement … it's all part of it! 
"It was so wonderful to have all the parents and some siblings there too. This support is a huge factor in making our club so strong. I began in this sport at GVGS some 17 years ago as a Year 8 'newbie'. This was the best Nationals I've ever experienced because of our club." 
For Zali Schelling and Alexandra Treacy, it was their first National Aerobics Championships, having won gold at State level last year in a pairs routine together. 
Zali said, "It's kind of like you're in a daze and then they're calling your name, and suddenly your music is playing. It really flashes by. The lights on you are so bright and you don't really have time to think, but when you come off stage, if feels like the best thing in the world. Then, when you collect that gold medal, you feel like an Olympian – it's really the best feeling."
Alex said, "The moment that we walked out on stage to receive the gold medals, I was on cloud nine. The feeling was indescribable. I wanted to scream with joy and cry with happiness at the same time."