Congratulations to the VCE Class of 2019

VCE ATAR Scores – Class of 2019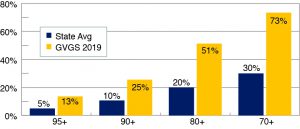 25% ATAR 90+ (22 students)
40% ATAR 85+ (36 students)
73% ATAR 70+ (65 students)
The school community congratulates all students in the Class of 2019. Their goal of deepening connections across year groups left a very positive legacy. Close and positive interactions with their teachers were hallmarks of their relationships with others. Collectively they supported initiatives coordinating a diverse array of events and activities. Throughout Year 12 they remained committed to active involvement in sport, productions, public speaking, community service, leadership and music.
A genuine commitment to learning growth was evident through their effort and persistence. We are proud of our identity as an open entry school that welcomes a diverse range of students. We particularly acknowledge the courage and determination of students who persisted in the face of obstacles and those who challenged themselves to seek excellence. Our students' learning was founded on the care and commitment of our dedicated staff who set high expectations for all.
Outstanding Achievers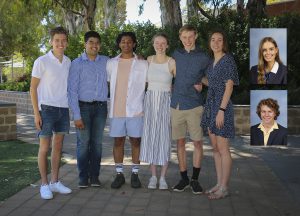 L-R: Hugh Farrell (98.25), Muhammad Islam (99.9), Ishan Wijesingha (98.2), Lucy Asquith (99.7), Joshua Dillon (98.45), Larissa Watts (97.4). INSET: Milla Pogue (97.7), Lynton Hoey (97.5).
Study Scores of 50
| | |
| --- | --- |
| Lucy Asquith | Health and Human Development |
| Muhammad Islam | Specialist Mathematics and Mathematical Methods |
| Milla Pogue | Legal Studies |
Class of 2019 – VCE Information
| | |
| --- | --- |
| Study Scores over 40 | 17.5% (State Avg. 7%) |
| Median Study Score | 33 |
| ATAR 98+ | 6%   (5 students) |
| ATAR 85+ | 40% (36 students) |
| ATAR 75+ | 64% (57 students) |
| ATAR 70+ | 73% (65 students) |
| Perfect Study Scores 50 | 4 |
| Median ATAR score | 80.5 |
| Students receiving an ATAR | 89 students |