Furphy Literary Award success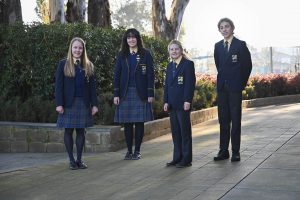 Pictured L-R: Layla O'Callaghan, Elly Miechel, Lila Plunkett and Ben Shelton. (Absent: Alice Bourchier and Class of 2019 student Miya Smith).
On Saturday, July 25 the Furphy Literary Award winners were announced via an online presentation ceremony. Some 230 short stories and poems from young people in the Goulburn Valley were judged in this year's competition. Categories for the Junior and Youth ages included Junior (12 and under) Short Story, Youth (13-18) Short Story and Youth (13-18) Poetry. Of the 9 place getters across the 3 categories, 7 were GVGS students, and in addition to this, a number of GVGS students were shortlisted in the various categories. Congratulations to the following students:
Youth Short Story: Elly Miechel (Year 12/pictured below) won first prize in the Youth Short Story category with her entry titled "An Atlantic Night". In second place with her entry titled "A Perfect Coincidence" was Notre Dame College's, Sophie Campisi. In third place was Layla O'Callaghan (Year 9) with "To Love a Faery". There were 56 entrants in the Youth Short Story category.
Youth Poetry: In the Youth Poetry category, a total of 57 entries were received. First prize was won by Miya Smith (GVGS Class of 2019) with her poem titled "Persimmons". Ben Shelton (Year 9), came in second with "Colours of a Lakeside Life" and Layla O'Callaghan (Year 9) was third with "The Flavours of Demurity".
Junior Short Story: A total of 115 entrants submitted works for the Junior Short Story, First prize was awarded to Lila Plunkett (Year 5/ pictured above) for her work titled "Off Track". Second place went to Alice Bourchier  (Year 7) for "Fortune Favours the Bold" and third place went to Riley Wooster of Shepparton East Primary School for "The Miners Hat".
The winning stories are available to read via Furphy Literary Awards website.