School Captain 2021, Isabelle Trezise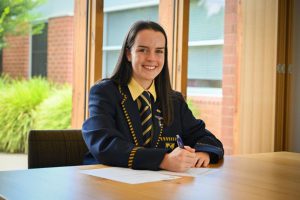 Isabelle Trezise didn't go into her prefect interview fixated on the role of School Captain. It was such a nice surprise, being chosen out of everyone who applied," she says.
The appointment might have caught Isabelle off-guard, but it didn't shock many others. The 17-year-old from Kyabram is bright, engaging and enthusiastic about school. She is also passionate about bringing a sense of community to the grounds of GVGS, after a long year of classes over Zoom.
"I'm pretty happy we're back, because that wasn't ideal," says Isabelle, adding, "but in a weird way, it was kind of fun".
Last year, Isabelle fast-tracked Indonesian. "It was good, but a bit challenging". This year, she's studying English, Further Maths, Health and Human Development, Psychology and of course, Economics.
"I honestly love all my subjects this year," says Isabelle, when we ask if she has a favourite. "I still don't know exactly what I want to do. I like a lot of things, so I do have a pretty big mix of subjects. I'm interested in business and economics, maybe even politics, but also psychiatry and psychology, which are completely opposite," she says with a laugh.
Isabelle credits her teachers and GVGS' career counsellor, Mrs Block, for perpetuating a positive, 'everything will work out fine' mentality. "Mrs Block has been telling us, 'have some ideas, but you don't need to know exactly what university course or career you want to do.'" Isabelle says that right now, her cohort seems more focused on doing well at their studies, "and then we'll see where that takes us."
While studying is the top priority, Year 12 is also about having fun. It's the last time you get to spend every day surrounded by the people you've pretty much grown up with, so it goes without saying that memories must be made, and lost time must be made up for—last year. Isabelle and her grade had their Presentation Ball, Eisteddfod and even a school trip to Europe cancelled due to the pandemic. "What can you do," she says with a mature shrug.
Isabelle plays Goal Attack for the Stanhope Netball Club on the weekends. "It's a good break from studying and it forces me to get out of the house, because once I start studying it can be hard to pull me out of that bubble." She did press pause on her 13-year dance career to focus on school.
Peppered with events like Concert Under the Stars, Valentines Day and the House Swimming Carnival, the first term was a busy one for Isabelle and her Co-Captain, Akhil. They are excited, she says, to "get some more new things up and running next term".
"I would like to do something that really brings the school community together and involves the younger year levels, because of last year, not as many of us got to know each other." It's fitting, then, that the leader Isabelle looks up to most is New Zealand Prime Minister, Jacinda Ardern.
"I think she's really inclusive and such a good role model. She stands up for the right things, regardless of race, religion or gender, she's just really equal with everything she does," says the School Captain. "I really think she's a great role model for women.