The Class of 2021, results

Congratulations to the VCE Class of 2021
21% in the top 5% of the state (ATAR 95+)
34% in the top 10% of the state (ATAR 90+)
57% in the top 20% of the state (ATAR 80+)
72% in the top 30% of the state (ATAR 70+)
11 students ATAR 98+
The School community sincerely congratulates the entire Class of 2021. They have been remarkable in their capacity to overcome the challenges of the last two years.
They demonstrated a deep commitment to learning despite the repeated periods of remote learning and sudden changes. We acknowledge in-particular the resilience of the students who experienced incredibly difficult circumstances including trauma, grief and loss.
Their involvement in and passion for music and performing arts has inspired future generations of students. The Class of 2021 have always been fine sporting competitors representing their Houses and the School.
The Class of 2021 have celebrated the importance of the most simple but powerful pleasures of being able to spend time with and talking to others.
One of their defining characteristics has been their concern for and support of others. They have demonstrated this though their leadership, fund raising and championing of social justice.
The School expresses our sincere thanks to the Class of 2021 for their rich legacy. They have indeed demonstrated the qualities of Semper Ulterius.
Semper Ulterius
Outstanding Achievements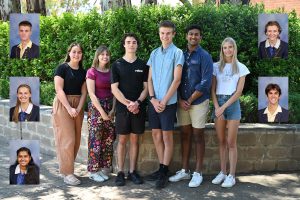 L-R: Morgan Williamson (98.45), Sarah Roberts (99.8), Matthew Lowe (99.5), Hayden Reynolds (99.4), Akhil Gadde (98.05), Sophie Kamenjarin (98.8). INSETS: Reily Menhenett (99.55), Moara Smith (98.9), Mahek Shah (98.95), Lilia Tennant (99.55), Jack Vaivars (99.3).
Study Scores of 50
| | |
| --- | --- |
| Sophie Kamenjarin | Health and Human Development |
| Lilia Tennant | English |
More information
| | |
| --- | --- |
| Study Scores over 40 | 17.4% (State Avg. 7%) |
| Median Study Score | 34 |
| Study scores of 50 | 2 |
| ATAR 98 + | 13% (11 students) |
| ATAR 95 + | 21% (18 students) |
| ATAR 90 + | 34% (29 students) |
| ATAR 80 + | 57% (49 students) |
| ATAR 70 + | 72% (62 students) |