GVGS Dux 2022, Anna Howell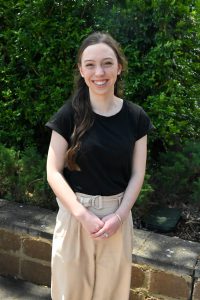 Amidst a global pandemic, one-in-100-year floods sweeping through her hometown of Benalla and the standard complexities that come with being a high school student, Anna Howell still managed to achieve an ATAR of 99.75.
Even with all the challenges over the past few years, nothing was going to stop me. It had an impact on me, of course, but I never lost motivation – I had goals for myself and I knew what I wanted to achieve," she says.
"I walked out of most of my final exams pretty happy and even though I thought I could have done better in a few of them, I was hopeful that I would do well. When I logged in and saw my final results, I was blown away. I had my sisters (Kiera, Class of 2016 and Ella, Class of 2018) sitting next to me and parents on FaceTime; I was screaming and crying, they didn't know if it was good or bad news."
Over the years, Anna has taken advantage of the various opportunities available to her, including travelling to Sumatra, Indonesia for the GVGS World Challenge in 2019/20 and the role of 2022 Social Justice Prefect.
"I've studied Indonesian since primary school. I knew that I wanted to continue studying Indonesian into VCE, but you need to dedicate a lot of time and energy into learning a second language, so fast-tracking gave me that chance to fully focus on a Unit 3/4 subject in Year 11. It's like you form different connections in your brain when you study a language – when you read a passage in another language, you need to decipher it and that complex problem solving did flow over into how I tackled my other VCE subjects, especially maths," she says.
"I've always had a passion for gender equity and social issues and so being Social Justice Prefect suited my ambitions and values. I was keen to take on a leadership role because I had a lot of ideas I wanted to share and put into motion; it's been a great experience."
Anna says she has thoroughly enjoyed her time at GVGS and looks back fondly on her six years at the School. "I've been so fortunate to have had the opportunity to attend GVGS; I truly believe the School has a unique culture that fosters a love for learning and achieving your absolute best," she says.
"Talking to other friends who have been at other schools, it shows me how special GVGS really is and the support you do get. The teachers are amazing, they're there to support you 110% – they do go above and beyond and they want to see you succeed. It has certainly been special and I have some really great memories that I'll have with me forever."
In 2023, Anna is looking forward to commencing a Bachelor of Science at The University of Melbourne, which she is hoping will then lead on to a Master of Engineering.
"What drew me to choosing The University of Melbourne and The Melbourne Model was that you're not locked into a decision – you can change your mind. I can divert away and change my mind if I want to and it doesn't disrupt my learning or add years to my degree," she says.
"I'll be living at St Hilda's College and I'm very excited for that. I've loved my time at GVGS and I'm ready to move away, branch out and become more independent. I'd love to travel at some point as well, so I can get out into the world and grow as a person."